Accomplishing More With Social Media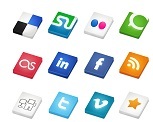 The Internet changed the world in the mid 90's and social media is changing it again today and most likely in the new decade. Today's social media platforms (from LinkedIn, to Facebook, Twitter, and the blogosphere), offer extraordinary capabilities and unique opportunities which can bring about significant business and personal benefits. However, many businesses and users are not realizing these benefits, either a) getting caught up in the social media "chatter" and spending too much time in these platforms with little or no returns, or b) not fully leveraging the capabilities of these platforms, or c) writing them off all together as irrelevant or unimportant—the place where people post what they had for lunch.
Whatever our view is on social media, the reality is that 100's of millions of users are engaged in these platforms, and this large user base includes many of our customers, employees, partners, colleagues, friends, and family members. It is imperative then that we better understand these platforms, become skilled at using them, and learn how to fully leverage them. In this session, we explore their capabilities, and discuss ways in which we can use them strategically and purposefully, to achieve significant business and personal results.
Key Takeaways
If you are new to social media, this session will provide you with everything you need to get started including demonstrations of each of the platforms.
If you are already using these platforms, you will gain additional insights into how to use them more strategically and purposefully.
In addition (as an extra bonus), you will learn firsthand about the Results Curve™, and how it can help you in managing social media and other interrupting technologies such as e-mail and Instant Messaging.
How this workshop is delivered
The workshop is typically delivered as a 2 x 90-minute webinar series--one session per week over two weeks. The workshop is also delivered in-person at conferences and events and can be adapted to shorter time slots ranging from 1 to 2 hours. Please contact us to request scheduling.