The Results Curve™: How to Manage Focused and Collaborative Time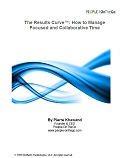 "The digital revolution should make us all incredibly efficient and productive. The tools at our fingertips—easy multimedia production software, instant and free communication around the globe, massive research power without needing to get up out of our chair—should all allow us to complete tasks in hours instead of days and leave us more leisure time than we could ever have imagined.
And yet this promise of efficiency seems to be just a little beyond where we are right now, somehow always eluding our grip. We can't seem to get there.
Our work environment is one of great onslaught. We struggle to get done on Friday what we had hoped to achieve the previous Monday. Why is it so difficult to do the things we really want to do?..."
Download the eBook now and keep on reading!