"The Ladder is Out--How to Manage Your Career in the Age of the App" by Jenny Blake
Pre-order your copy of Jenny Blake's "Life After College: The Complete Guide to Getting What Your Want"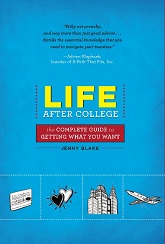 Life After College is that essential manual that every graduating student needs, featuring practical, actionable advice that helps them focus on the big picture of their lives. Written by popular blogger and life coach Jenny Blake, Life After College provides tips on every area of life including: Work, Money, Home, Organization, Friends & Family, Relationships, Fitness & Nutrition, Fun & Relaxation, Personal Growth. A "one stop shop" of guidance, Life After College is a powerful combination of tips, inspiration, and coaching exercises that no twenty-something will want to be without!
Please Note: You can pre-order your copy today at Amazon.com, check out Life After College book site and the Life After College blog receive Jenny's ongoing updates!