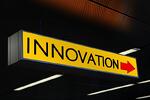 Creativity is essential for organizations and individuals who want to grow and lead—and if you don't have it, you could get left behind. Leaders and managers who want to harness the power of their organization's creativity, and professionals who want to ignite their own, individual creativity in the workplace will benefit from this enriching, two-part webinar, Creativity and Innovation on April 18 & 25, 9:30 - 10:45am PT.
The online sessions are taught by Daniel Guillory, CEO of Innovations International and People-OnTheGo Faculty Member. A recognized expert in his field, Daniel has worked to infuse creativity and innovation in many leading organizations such as Toyota Financial Services, Merck & Co., Ronald McDonald House Foundation, and more.
Individuals: Receive

30%

off Creativity and Innovation.
Groups: Receive

50%

off Creativity and Innovation when you sign up in a group/team of 3 or more.*
*Groups will need to submit in the Contact form to the left the names of their group members in order to secure the 50% off group price. Please also include the phrase "Creativity and Innovation group" in the form.
Read the full webinar description here.