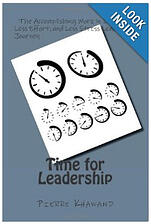 Almost everyone in the People-OnTheGo Community has contributed in one way or another to the success of this journey—the journey of writing Time for Leadership: The Accomplishing More in Less Time, Less Effort, and Less Stress Leadership Journey

Thank you all for your support! This journey came to a successful ending with the launch of Time for Leadership. And now, the next journey is about to begin. We need to get the message across: It is time for leadership. This means that leadership is not just for the so-called leaders. Instead, its reach needs to be broadened to all levels within each organization. Time for leadership also means making time for leading. Leaders who don't have time aren't leading. Time for leadership is an awakening in modern leadership.
This is how you can help spread the message
Get the book and post a review at Amazon (see scholarship and drawing details below).

Share the book with your employees, team members, colleagues, family and friends.

Host a book signing and/or lunch & learn presentation at your company (in-person or virtual). Please contact Melissa Sweat, Online Community Manager at melissa@people-onthego.com, if you need more information.
Write a Review to receive a scholarship and a chance to win an Amazon Kindle
Be one of the first 25 people to review Time for Leadership on Amazon, and get an 80% scholarship towards the leadership program or a $200 gift certificate towards the AML workshop or webinar series. In addition, you will be included in the drawing for an Amazon Kindle!
Special thanks: Time for Leadership includes contributed chapters with exceptional content about creativity and innovation, stress management, nutrition, and wellness from our faculty members Daniel Guillory, Alicia Ruelaz MD, Deanna Moncrief, and Jennifer Weland!