Complimentary Lunch & Learn Webinar: Visual Leaders—Capitalizing on the Visualization Revolution
Thursday, January 31, 2013 from 12:00-12:40 PM Pacific Time
Space is limited.
Take our survey and enter to win a copy of presenter David Sibbet's new book, Visual Leaders, & much more!

This webinar will show how leaders and managers can use visual meetings, visual teams, and new technologies to get better results. These tools are unparalleled for getting engagement, "big picture" thinking, and acheiving follow-through on projects. You don't have to be able to draw, but do need to know what's possible.
Key takeaways
Appreciate a map to the whole territory of visualization.
Learn some practices that will raise your own visual IQ.
Review some of the best practices that work with different kinds of organizations.
Address the wide range of new technology tools that support visualization.
About the presenter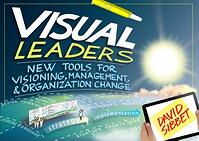 President and Founder of The Grove Consultants International, David Sibbet has been an organizational consultant and information designer since 1977. He is the author of John Wiley & Sons three-volume Visual Leadership series plus many of The Grove's leading-edge group-process tools and models for facilitation, team leadership, and organizational transformation. His latest book, Visual Leaders: New Tools for Visioning, Management, & Organization Change, describes visual best practices for leaders and managers of organizations.

David is a master facilitator of large-scale group processes, strategic visioning, and creative, future-oriented symposia. He frequently lends his coaching and design expertise to Grove project teams. His practice is informed by eight years of public affairs leadership development through the Coro Northern California Center for Civic Leadership.

Sibbet holds a master's degree from Medill School of Journalism at Northwestern University and a B.A. in Literature from Occidental College in Los Angeles.

Hope you will be able to join us!
Don't forget to take our survey for a chance to win a copy of David Sibbet's new book & more!
PS: Join our Accomplishing more with less group on LinkedIn and Facebook to view recordings of previous sessions and become part of the Accomplishing more with less learning community.