Jenny Blake has a refreshing take on public speaking—it's OK to feel nervous! It's normal!
"It was simply my body doing its job—engaging my flight or fight response as a survival instinct during what it perceives as a very dangerous situation," reflects the Life After College author and now international speaker on the inevitable nerves that came with one of her first, big speeches.
Even though, it's perfectly normal to get the pre-speaking engagement jitters, Jenny is quick to remind, "It doesn't have to be this way."
According to Jenny, speaking like a pro is all about preparation of mind AND body, and knowing how to give yourself a break while engaging with your audience with full authenticity.
Here are seven public speaking tips below adapted from Jenny's writing on the topic:
1. Know where you want to take the audience.
A great speech involves taking your audience on a journey and inspiring them to action. Go-to quote from Jenny: "How do you want to impact the audience, and what would you like them to DO as a result of your speech?"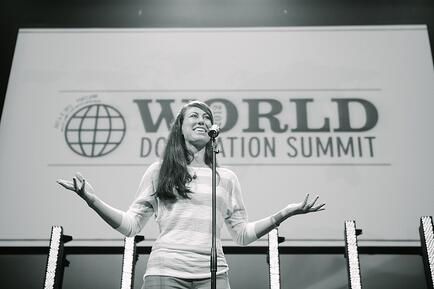 2. Make change happen.
The desired outcome of your speech should improve the lives of the audience members in some way. If you're not making change happen, then there's no point.
3. Get prepared.
Commit your speech to memory over and over again, so it actually moves out of the front of your mind it's become so natural. (Jenny will discuss the brain science behind public speaking more at our upcoming webinar.)
4. Get prepared some more.
Jenny recommends practicing your speech in the morning and at night for one week before your presentation. Practice "sticky" sections until you have them down. Record yourself and listen, or seek feedback from a trial audience, co-worker, or friend.
5. Make the mind, body connection.
Proper sleep, deep breathing exercises, and even pacing will help to quell and channel that adrenaline before the big speech.
6. Have fun!
"The audience wants you to succeed and they want you to be human, not a speech robot!," says Jenny. During the presentation, it's important to be yourself. Give yourself a break, smile, and enjoy the moment.
7. Keep strong and carry on.
The most important thing to remember is that you CAN do it! Even if nerves take over or technical problems occur, it's still your time to shine by taking your speech to the finish. As Jenny shares, "People will love you more for keeping strong and (awkwardly) carrying on."
You can learn more about Jenny Blake in the video below, or by visiting www.jennyblake.me.
Additional Resources & Webinars