We all seem to complain about e-mail, and that we get too much e-mail, and yet we all seem to contribute considerably to this e-mail mess! How do we sent our documents? Via e-mail. How do we setup meetings and coordinate events? Mostly through e-mail. How do we ask questions, answer questions, and share information? via e-mail. This needs to stop, if we want to get a handle on e-mail.
How can we change this? By using better collaboration tools such as blogs, wikis, and Microsoft SharePoint.
Let us consider Microsoft SharePoint for a moment which is one of the tools that we have been using, evangelizing, and teaching for years--as an effective way to help streamline collaboration and information sharing while easing the e-mail overload instead of adding to it.
Here are 3 ways to get rid of e-mail, using Microsoft SharePoint
1. Instead of e-mailing documents around and filling these mailboxes with attachments, how about storing these documents in document libraries in SharePoint. While I am editing a document in SharePoint, if someone else tries to edit the same document, they will be gracefully notified and given the opportunity to take control of the document as soon as I am done with it. Most importantly at any point in time, I can see the revision history, and review each of the edits that were made to this document along the way.
Figure 1: Notification that user receives if they try to edit a document that is in use by someone else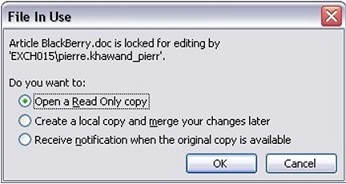 2. Instead of coordinating the next meeting or event via e-mail, and sending these supporting documents and action items back and forth, how about creating a meeting workspace in SharePoint and customizing it to enable tracking meeting tasks and a list of things to bring. This may rid of a few dozen e-mails and avoid these endless confusions about who is doing what.
3. Instead of answering the next question you get via e-mail (relating to your subject matter expertise), how about your start a blog in SharePoint where you share the answers so that everyone on the team can benefit from them.
Join us at the Microsoft SharePoint Techniques webinar and learn more!