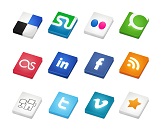 A few days ago, I posted an article about the Old terminology, new terminology: "People connecting with other people." A related topic that I have been thinking about is the "old" inbox and the "new" inbox. However the more I thought about it, the more I realized that there is even a newer inbox: The Social Media Inbox. What do these inboxes mean and what are the implications of the advent of the Social Media Inbox? Keep on reading!
The old inbox
I still remember the days when the inbox meant internal e-mail only. I was in Southern California at a technology company with about 100 employees at the time and everyone had access to Microsoft Outlook and used it for internal e-mail and for scheduling internal meetings. The external world was not "visible" to internal employees. There was no Internet, if you can imagine. Only a few people had access to MCI and a few others to Compuserve. These privileged people were able to connect to the external world but still had to go through hoops to do it.
The new inbox
Then came the Internet and suddenly the "new" inbox was born. The new inbox is connected to the whole world. This brought amazing opportunities and also an unprecedented e-mail overload. Every person ended up with a handful of e-mail inboxes ranging from work, to personal, to "throw-away" ones just to keep unwanted messages out of the way. Soon after came the invasion of the mobile devices and e-mail on the go. Consolidating messages into one e-mail application and/or synchronizing between multiple applications and devices became necessities and many of us have done some degree of consolidation and synchronization along the way.
And now meet the "new new" inbox: The Social Media Inbox
Then Web 2.0 snuck upon us! Now we are all part of the creation process and part of the conversation. Like never before, we the people can share information, participate in conversations, and build our own social networks. We are in direct contact with the people who once were invisible. Suddenly we are no longer just in our e-mail inbox(es). We are now as often or even more often in our new and expanded inboxes: Twitter, Facebook, LinkedIn, blogs, Yahoo Groups, Google Groups, YouTube channels, del.icio.us bookmarks, StumbleUpon articles, and you name it, which all together I am calling the Social Media Inbox.
This inbox is emerging as a powerful force and even the most authoritative search engines are re-inventing their search approach to include the Social Media Inbox.
So what does it all mean? What are opportunities and the challenges?
The Social Media Inbox brings some unique opportunities and some rather unique challenges as well. On the opportunities side:
We are connected with 100's of millions of people and are able to have real time conversations with them
We are learning what they are like and how they think (market research)
We are discussing our brand and the value that we bring to the table (marketing)
We are influencing their buying decisions (sales)
We are exchanging ideas and building on each other's ideas (innovation)
And the list continues!
On the challenges side:
We are faced with more information overload than ever before
We are constantly interrupting our core activities to keep up with what is going on in the world
We are not necessary leveraging this new inbox to the extent that we could
And the list continues!
What does your Social Media Inbox (SMI) look like and how are you managing it?
If you haven't yet expanded your definition of the "inbox" and explored the Social Media world, this is the time to do so. Some exciting opportunities are awaiting you. If you have, this is the time to reflect further on the opportunities and challenges and how they can be managed to help us be more effective in the workplace and beyond.
As we continue to explore this topic and explore best practices to manage the SMI, we need your help! Please share your thoughts below or fill out this short Social Media Inbox survey (5 to 10 minutes) and we will share the survey results with you.
Take the Social Media Inbox survey and become part of the conversation!