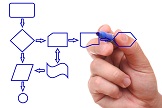 Many of the business professionals we talk to seem to report that they spend endless hours in their e-mail inboxes. They tend to "live" there checking e-mail every few minutes or even seconds, having a dozen of e-mail messages open simultaneously, hopping from one to the next, and then deserting the latest one as soon as they hear the beep or see the alert, to open yet another message. Someone confessed recently at one of our workshops that when no new e-mails show up, he sometimes catches himself pressing the send/receive button repeatedly as if he is desperate for more. Does it sound like an addiction? Well, it is.
There is a lot more to discuss about this addiction, and this will be one of the topics we will touch on in future articles, but for now, we are going to focus on simplifying and optimizing the process--the e-mail management process that is. This is the second out of five strategies that I layout out in the last tip-of-the-month in which I also discussed the first strategy: "Using e-mail for what e-mail is best at."
The simplified e-mail process
Instead of "living" in the inbox and working on e-mail messages in an ad-hoc fashion, how about treating e-mail like any other task with a beginning and an end. We will discuss below how frequently we engage into this task, but for now, let us focus on the mechanics of this task. Let us also give this task a name: "Processing the Inbox." Processing the Inbox consists of the following:
Going through the inbox one message at a time, starting with the most recent, and not leaving that message until we make a decision about it.

If a message is urgent, we handle it right away.

If a message is quick and easy, we hand it right away.

If a message cannot be handled right away, for one reason or another, we make a decision about when we want or need to handle it and flag accordingly (or categorize it, or tag it, or label it, depending on which e-mail application you are using):


If it has to be handled today, then flag it with a red flag
It it can wait until tomorrow or later, then flag it with a blue flag
If it can be delegated to someone else, then forward it to them, and flag it with a yellow flag
Processing the Inbox is not complete until you process all the new messages in the inbox (the messages that arrived since you checked the inbox last).
To see this process in action, view the free training module (see form in the left column) which demonstrates the step by step process (in this case for Microsoft Outlook 2003, even though the above process can be adapted to any version of Outlook or any other e-mail application that supports tagging or labeling such as Google Mail, and applications with add-on's that support tagging such as MailTags for Mac Mail).
The optimized e-mail process
Now that we have a process down, and we don't just do e-mail one at a time and endlessly, there is still an important questions to answer, and that is how often do we check e-mail? In other words, how do we optimize our workflow?
This brings us to the core issue that I have been evangelizing for years, and which I recently published in its most comprehensive form: The Results Curve--How to Manage Focused and Collaborative Time (free download available). I won't discuss the details of the Results Curve here, but according to the Results Curve, it is best to check e-mail every 40 minutes, or whatever length of focused time you choose. So instead of checking e-mail every few minutes or few seconds or as soon as you hear the beep or see the alert, let e-mail wait until the next collaborative session.
This also means that at the end of the day, we need to leave room for an e-mail session, where we go through the messages we flagged for today, and handle these messages.
Before you answer your next e-mail, stop for a second and ask the question: Should I interrupt my current task and jeopardize my results, or should I wait until the next collaborative session?
Stay tuned for the next Tip-Of-The-Month article where I will discuss the next strategy: "Significantly reducing the output and the input."