If you haven't ventured yet into Social Bookmarking, a whole new adventure is awaiting you. Social Bookmarking platforms like Delicious not only let you bookmark web pages for future reference, but also tag them, add your notes, and share them with the world.

And there is more! You can see the web pages that other users have bookmarked and therefore learn about what topics are popular and what resources are available out there. It is like having a real-time "magazine" that is edited by the "world" and delivered to us on a silver tray 24x7. Most importantly, it is not in the way and interrupting our flow like an e-mail update would. Instead, it is in the background at our service if/when we want it or need it.

There are two questions that came up recently about Delicious, one of the most popular Social Bookmarking platforms, during our lunch & learn webinars and also my recent presentations about managing e-mail and Social Media. Here are the answers.
Can I import my browser bookmarks into Delicious?
Absolutely. This process is made easy by the Delicious import function:
Sign up for Delicious at www.delicious.com (you would need to create an account if this is your first time).

Go to Settings (one of the links on the top right of the Delicious home page).

Select Import/Upload Bookmarks (one of the many settings that are available to you) and you will get to the import screen which would allow you to easily transfer a copy your browser bookmarks into Delicious:


Can I have private bookmarks in Delicious?
Yes, you can have private bookmarks in Delicious. Even though one of the primary purposes of Social Bookmarking tools such as Delicious is to "share" bookmarks with others (sharing is what makes this "social" bookmarking), there are bookmarks that we want to keep private. Delicious allows us to easily do so by simply clicking on the "..." when we tag the bookmark.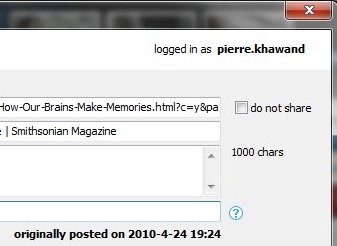 Additional Resources