In 2007 I waited for 24 hours in front of the Apple Store in Palo Alto to get the first iPhone, review it, and include the review in the Smartphone Experiment book that I was about to publish at the time. In 2010, when the first iPad was released, I wasn't ready to repeat the 2007 camping adventure to get the iPad. I also didn't think that the iPad was more than a mega-iPod touch and not primarily a productivity tool. I even proceeded to skip the iPad for the time being and get a netbook instead in order to lighten up my load during travel instead of hauling the super duper laptop and its accessories.
When my netbook failed me, mostly being too slow with limited memory and limited processing power, both eaten up by the operating system and not leaving enough juice for my applications and browsers, then I resorted to the iPad. You have heard so much about the iPad, so I won't attempt to review it or tell you how much I love it (which I do), but I would like to show a picture of the latest set of productivity tools (in which the iPad has claimed its place) that I consider crucial in the mobile and virtual work environment that we live in.
The new toolset for today's mobile and virtual work environment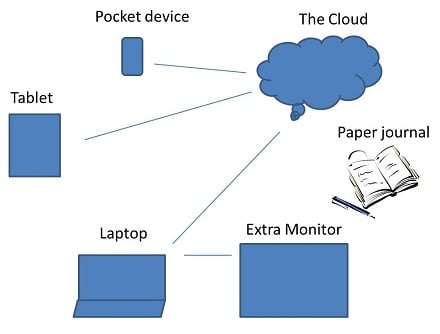 | | |
| --- | --- |
| Tool | Ideal For |
| Pocket Device | Notification (texting, e-mailing, calling). Escalation. Quick replies. Quick searches. Quick documentation using camera. Quick idea capturing using notes, voice memos, or photos. Quick Social Media browsing and updates. All while in transit or in motion with limited real estate and one hand operation. |
| Tablet (iPad for now) | Favored over pocket device anytime there is enough room and hands. Larger screen, better visibility, less scrolling, easier typing. Very fast. Stunning graphics. Freedom from the "chair+desk" position. Freedom from the mouse. Creativity. |
| Laptop | Processing power. Memory. Large documents. Complex applications. Enterprise integration. |
| Extra monitor | Viewing multiple data sources. Using multiple applications. Handling complex models. |
| The Cloud | Accessing data and applications across multiple platforms and from remote locations (this also applies to remote access to enterprise systems) |
| The paper journal | Thinking. Strategizing. Reflecting. Drawing. Visual problem solving. New perspective away from the information overload. Playground for imagination and creativity. Output rather than input. |
And now with us in the picture, the picture might look like this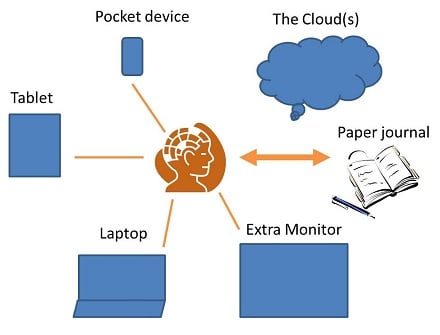 Your turn to add your pieces to the above diagram! Your input is welcome in the comments below.