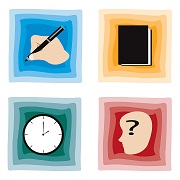 I belong to this organization (its name to remain anonymous) and it was time to renew my membership recently. I was asked to fill out the membership application again (same application that we filled out last year). Being the productivity and efficiency evangelist that I am, I couldn't "digest" that request very well. So I objected and questioned why we would be asked to submit the same information again! Shouldn't we all be focused on doing work that has some purpose after all?
This didn't stop here! When the application was not received in time, our company profile was deleted from the organization's website and it seems it was not stored in any other backend database. Now we have to fill out an application that we already filled out previously, and re-submit the profile information that we have submitted previously!
This didn't stop here either. I got a lengthy response from the baby boomer in charge, explaining the logic behind the "illogical" process!
Let us learn something from Gen Y. And that is having things be practical and doing only things that make sense! Not to mention that Gen Y can't learn a thing or two from Baby Boomers—I will point that out at the next opportunity as I continue to promote a multi-generational workplace where we all learn from each other! What can you learn from other generations? Your turn!
More Resources
Review recordings of the following lunch & learn webinars at the "Accomplishing more with less" Facebook group:
Gen Y in Action by Jenny Blake
Gen X in Action by Adam Christensen
Baby Boomers in Action by Peggy Wolf
Seniors in Action by Bill Denyer
Generational Panel Discussion