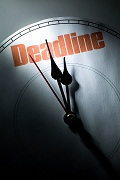 As the deadline approaches for completing the manuscript for the Accomplishing More With Google Apps book, I needed to take some drastic measures to stay on track. One of them was to take two whole days out of my busy schedule and work uninterrupted on writing and editing.
The thought of spending two full days on one task is not necessarily the most appealing especially when it comes to writing and editing; a process that takes energy, creativity, and requires a certain mindset/mood. I had to pull every trick I know, and every tip and technique I teach, in order to make it through!
So here are how I turned these 20+ hours of writing into a fun and successful project:
Started with a vision: I spend some time reflecting and reminded myself of why this is important to me, and what the finished product will look like. As you know, I am a strong believer in writing things down. So I described this vision vividly on my journal!
Proceeded to breaking the project down: I divided the two days into 4 half-day chunks, with a goal for each, and each half-day chunk, into about 5 or 6 smaller focused sessions. The exact times were loosely defined to allow for flexibility and spontaneity.
Alternated between focus sessions and mini-breaks and play time: After each focused session of exactly 35 minutes (for some reason my default guidelines of 40 minutes seemed too long for some reason), I engaged into an active fun break or exercise of some sort. This included moving around, stretching, and/or a little walk. I even designed a 5 minute exercise that I will be soon introducing at some fo the workshops (those who are attending my May 18th workshop are likely to experience it).
Arranged the environment ahead of time so I can stay uninterrupted during this project: I cleared the inbox, handled any outstanding and time sensitive issues, and even full cleared my desk. So now my workspace and my mind were ready for focus. Most importantly I cleared by schedule and set the expectation that I won't be available.
Stayed offline the whole time: While there was an overwhelming temptation to check e-mail on the breaks, I resisted and shut down e-mail all together. No e-mail and no browsing except when I needed it for my task--writing and editing. With no connectivity, focus got deeper and deeper, and momentum got higher and higher. No connectivity largely contributed to the success of this project.
How did you manage your last important project or deadline? Did you apply any of the above and how? Or what other tricks did you pull to overcome interruptions, complexity, and procrastination?