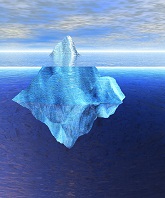 Barry Cardoza's presentation at our lunch & learn webinar this week (The Cyber Threat--No Boundaries) provided some invaluable insights on a topic that we may otherwise take for granted in our busy lives until it suddenly interrupts our life and bring it to a standstill: The cyber threat.
What are our threats today?
Barry indicated that the threats can come from a variety of sources including:
Script Kiddies
Criminals
Industrial Espionage
Insiders
Foreign Governments
Here are some attackers profiles
Insiders: Insiders have a unique advantage due to access/trust. They can be motivated by revenge, organizational disputes, personal problems, boredom, curiosity, or to "prove a point."
Script Kiddies: Relatively untrained hackers that find exploit code/tools on the Internet and run them indiscriminately against targets. While largely unskilled, they are numerous.
Criminals: Cyber based attacks offer new means to commit traditional crimes, such as fraud and extortion. Organized cyber-crime groups have adopted legitimate business practices, structure, and method of operation.
Terrorists: Cyber-attacks have the potential to cripple infrastructures which are not properly secured. In addition, cyber-linkages between sectors raise the risk of cascading failures throughout the Nation.
So what can we do?
The first thing we can do is to become aware of the issues and help create such awareness at our companies and communities. The next thing we can do is to team up with the variety of organizations who are working diligently at prevention and preparedness and become part of this effort.
Download Barry's presentation to learn more. Barry offered to help you customize this presentation and connect you with agencies such as DHS, Secret Service, and the FBI, so you can present it at your organization. Contact Barry at BarryCardoza@BarryCardoza.com for more information.
About Barry Cardoza

Barry Cardoza, Certified Business Continuity Professional (CBCP), and Principal of Barry Cardoza LLC, specializes in Business Continuity Program Development, Enhancement and Analytics. Barry has over 40 years of experience in business management, business process analysis, and continuous process improvement. This experience has been within many different industries and includes over 20 years within the banking industry. Previously responsible for Union Bank's Business Continuity strategy, policy, compliance, and program implementation.