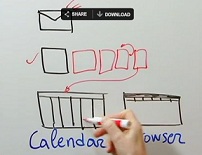 In this video session at CBS News MoneyWatch, we got to work at the whiteboard again. The topic was "taking control of e-mail interruptions." I drew and explained how most business professionals handle e-mail today (the shocking truth!), and then demonstrated how we can significantly improve on this "bleak" picture and transform e-mail from being an ad-hoc activity that has "us" under control, to a structure task that "we" have under control.
In doing so, we take control of one of most ubiquitous and detrimental interruptions of all, and that is e-mail interruptions!
What are you waiting for? Don't wait for the next e-mail beep, instead listen to this 3 min video and start taking action now. And don't keep it a secret. After all, e-mail is a shared responsibility.
Additional Resources