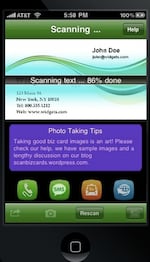 Do you remember the days when you needed a dedicated business card scanning device with its proprietary software to scan business cards? And when integration with other business applications was rudimentary? Well that is then and this is now. The ScanBizCards app is now. After presenting at a conference recently and finding myself with 50+ business cards, this prompted me to take a look at the latest business card scanning apps, which resulted in getting ScanBizCards for the iPhone and significantly streamlining the process of managing business cards.
The ScanBizCards app in a Nutshell
1. You start the app and take a picture of the card. ScanBizCards gives you a nice visual of the scanning process mimicking an actual scanner.
2. ScanBizCards recognizes the text on the business car and therefore populates the name, title, company name, e-mail address, phone, and other relevant fields. When in doubt, the app allows you to make adjustments and reassign and/or edit the unrecognized information.
3. Now comes the magic. You are presented with several options including
Sending an e-mail to the contact

Connecting on LinkedIn

Exporting to Salesforce.com (as well as Evernote and others)

Adding a follow-up reminder

Emailing the card

And more!
4. In addition, your card is stored in your device (my iPhone in this case, even though the app is also available for Android and Windows), and you can easily go through the cards that you scan just like you would if you had the paper cards in your hands.
(5. You throw the original card in the recycling bin!)
Estimated productivity gain
If you regularly deal with business cards and more than just a few at a time, you can expect significant productivity gains from ScanBizCards. The obvious gain is the time saving in getting the contact information in your preferred database (my estimate would be a saving of 5 minutes or more per card).
But the more important gain is the ability to quickly integrate the contact information with your various applications and cloud services (such as LinkedIn, Salesforce.com, Evernote, etc.) and therefore being able to easily manage the follow-up with this contact. This can translate into another saving of 10 or more minutes per contact and the opportunity to leverage your contacts instead of having their business cards collect dust on your desk.
More resources