By Eugene Dilan, Psy.D.

The verdict around employee engagement is in, and there is widespread agreement that an engaged workforce leads to higher retention, higher productivity, better customer satisfaction and yes, better overall sales and profitability. Consequently, there are many ideas about how to best create, optimize, and leverage engagement. These hypotheses range from the simplicity of Paul Marciano's "RESPECT model" to Sirota's "3-Factor Theory," the work of Cathleen Benko in "The Corporate Lattice," which focuses on the customization of how we build careers, do the actual work, and communicate—and let's not forget Gallup's "12 Elements of Great Managing," among many others. So the critical question is, when it comes to developing powerful employee engagement, which model is the real McCoy?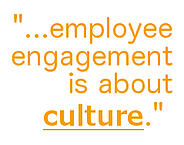 Unfortunately, there is no be-all and end-all model for optimizing engagement, and part of the reason for this is that individual employees, managers, executives, and organizations are not all alike. The strategies or levers that work with one person or place may simply not work with others. That said, if you look at a cross section of the research and working models, you might notice that some factors appear across all models—though the words used to describe them are all quite different.

I've made sense of the top engagement strategies across various models, and have provided them in the list below. The bottom line, however, is that true employee engagement interventions cannot be bought off the shelf and instead require time to assess and understand the specific and unique requirements for success within a specific sector, business, or individual. We need to move away from thinking of engagement strategies as simplistic tools that once implemented can be forgotten, and instead work to intervene in a more holistic fashion. Here are the 12 key values that will get your organization on the right track to creating a powerful, engaged culture:
Engaged leaders and managers. You cannot have engaged employees if your leaders are not engaged.
Trust in leadership. Do what you say you are going to do. Make critical decisions based on what's best for all stakeholders (internal and external).
Timely, honest, and consistent two-way communications.
Personable relationships with immediate supervisors. Research shows that knowing your immediate supervisor on a more personal level improves engagement.
Respectful and collegial relationships with colleagues who are committed to doing great work.
Fairness (compensation, workload, during conflicts, etc.)
Pride in an organization's mission, products, or accomplishments.
Opportunities for professional/career development (within and across functions) that are appropriately developmentally challenging.
Reward/recognition for progress or a job well done—however small. If you do not water the plants they won't grow.
Ability to influence or have some level of self-determination.
Flexibility (when, where, and/or how the work gets done).
Some level of accommodation to address personal needs as they arise.
To say it more directly, employee engagement is about culture. Culture is about values, leadership capabilities, policies, practices, and behaviors. How does one create a strategic culture? That is a very complicated question that is far beyond the scope of this blog post. However, we can begin by working to assess and understand whether the values and behaviors of our current culture are in fact delivering the performance levels we seek. If not, engaging other stakeholders to explore how the factors listed above can be optimized in the context of your strategy and culture will help.

Remember, Rome was not built in a day and that you need to employ all of the tools in your war chest. Values, leadership capabilities, policies, procedures, communication tools, learning and development, and performance management (including incentives) are all but a few of the many levers that, together, can help you create a coherent and powerful intervention that will move your organization from being mediocre or good to being best in class.

Eugene Dilan, Psy.D., is the founder and president of Dilan Consulting, Inc., and has over 25 years of experience providing direct clinical care and organizational consulting from the war zones of Iraq and Afghanistan to healthcare facilities, the aerospace industry, IT, and many more. More information at www.dilanconsulting.com, or contact eugene@dilanconsulting.com.