by Pierre Khawand, Founder and CEO
You probably have heard about the benefits of mindfulness for our physical and mental health — lower blood pressure and cortisol (stress) levels, a stronger immune system, improved sleep, and enhanced emotional stability. These benefits alone are enough to indicate that mindfulness would be an integral addition to our lives. And yet, while many of us acknowledge these benefits, we hesitate or don't know how to practice mindfulness where we need it the most — at work. Could mindfulness contribute to our work experience, and if so, what might it contribute, and how can we achieve it?
First, to make sure we all on the same page, let's define mindfulness. Alicia Maher, MD, author of From Scattered to Centered: Understanding and Transforming the Distracted Brain, defines mindfulness as paying attention to what is happening around us and within us without reacting to it. It is the ability to be in the present moment without distraction and without judgment. In other words, it is about paying attention to what is happening NOW! Unless we pay attention to what is happening now, how can we be effective and how can we positively impact the future? Recent research has shown how mindfulness practices can benefit us at work.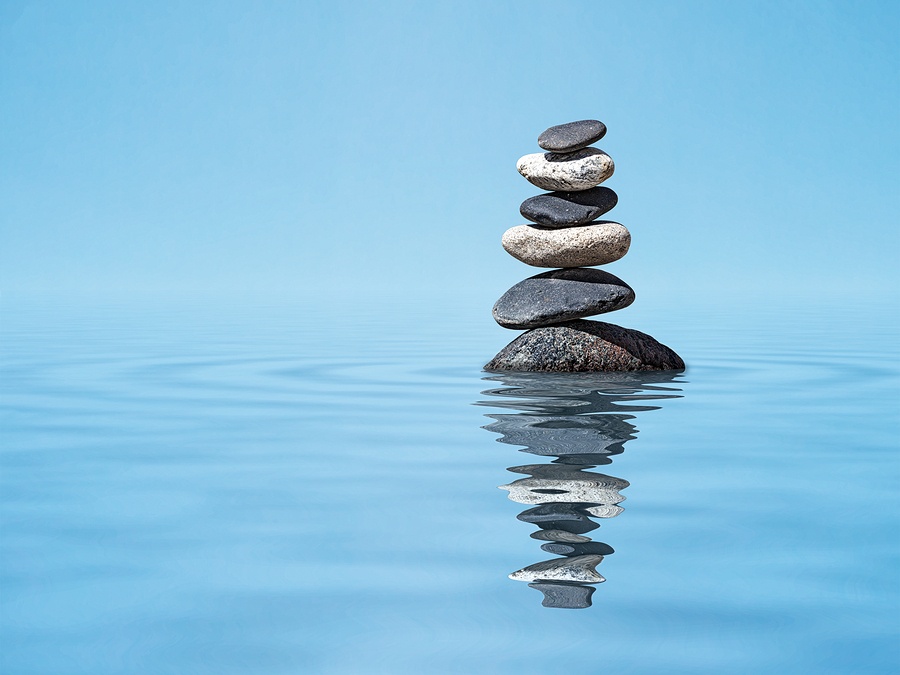 Mindfulness practices have been shown to help workers excel in dynamic work environments. In a field study conducted by Dr. Eric Dane from Rice University, trial lawyers used mindfulness to gather critical inputs from the courtroom environment — such as the reactions from the judge, the jury, and the opposing lawyers — in order to build their cases. Dr. Dane argues that the wide attentional breadth associated with mindfulness helped these lawyers unite numerous streams of information in order to make a strategic response. Outside of the courtroom environment, he expects mindfulness to benefit individuals who work in "dynamic task environments."
Our modern work environments are increasingly dynamic, requiring us to "multi-task" to juggle multiple tasks, projects, and sometimes even multiple jobs. Mindfulness practices have been shown to improve performance under such attention-dividing demands. Researchers from the University of Washington tested participants' ability to perform multiple tasks in a work setting. They found that mindfulness practices over an eight-week period improved the participants' ability to switch between tasks and to monitor their attention resulting in a more effective overall management of attention and related mental resources. Aren't these exactly the capabilities we badly need in today's overloaded workplace? Wouldn't you describe your workplace as a "dynamic task environment"?
If you believe increased stability and control of your attention may increase your working potential but don't know where to start, you're not alone. Breaking old habits and achieving the benefits of mindfulness at work requires some tools and some consistency, but the rewards are immense. To help cultivate mindfulness at work, I developed a method called the Perfect 15-Minute Day Method (PDM).
All that is required is a journal, a timer, and the method itself in order to get started. PDM uses "tags" and 15-minute increments to encourage mindfulness of tasks, goals, time, in addition to thoughts and emotions. Most importantly, PDM provides a method for recording distractions of all kinds. It is like a new "language" that makes mindfulness achievable every step of the way. There are four core techniques through which the PDM promotes mindfulness at work.
First, when you start to work on a task, write down on your journal a NOW tag and the name of the task. The NOW tag prompts you to be decisive about which task you will focus on for the next 15 minutes at least. This, as journalist and meditation practitioner Dan Harris asserts in his book 10% Happier, is a critical part of being mindful as it allows you to work assertively rather than reactively. This engages your active thinking and brings you to the present moment. Instead of hastily making decisions based on temptation, anxiety, or acts of randomness, you make more informed decisions based on wisdom by taking into consideration current reality and desired results (mindful task selection). Once you decide on the NOW task and write it down, the timer keeps you aware of time and keeps your attention on the NOW task throughout the 15-minute time frame (mindful task execution).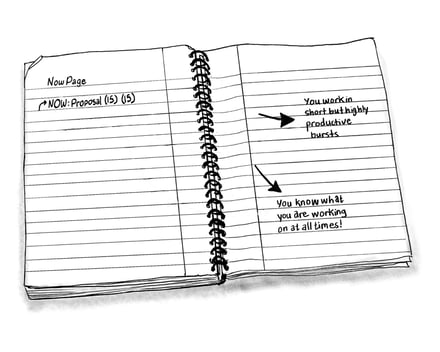 Second comes MicroPlanning™. MicroPlanning is a PDM technique that involves breaking down the task that you are about to undertake into smaller steps and jotting them down in writing right under the NOW task. This helps you dissect the NOW task, which might otherwise be overwhelming or ambiguous, into smaller steps that are digestible and actionable. This breakdown also deepens your understanding of the NOW task, engages your active thinking even further, and provides you the framework you need to be able to recover when your mind wanders or you get otherwise interrupted, thus allowing you to return to the present moment.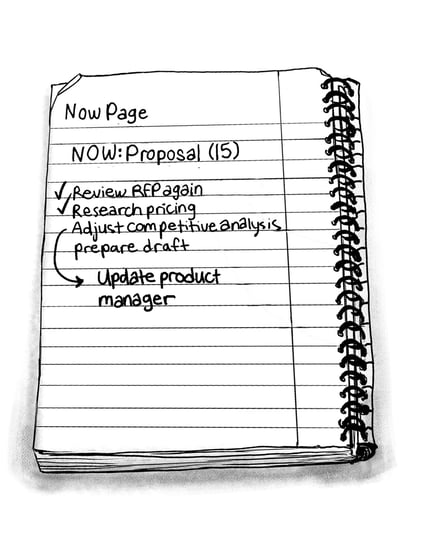 Third, the NEXT column, CAPTURE page, and TODAY page all help you notice and capture thoughts about things to do. Having a designated spot to jot down these items allows you to quickly return to your NOW task and thus return to the present moment. The NEXT column for instance is a column that you create on your NOW page in your journal so you can quickly and easily "park" interrupting thoughts about things to do after your current 15-minute focus session, instead of doing them right away and getting distracted from your NOW task. A study published in the American Psychological Association found that when distracted, people forget their intended task up to 40% of the time. Therefore avoiding these distractions is a huge step towards completing your priorities and feeling accomplished.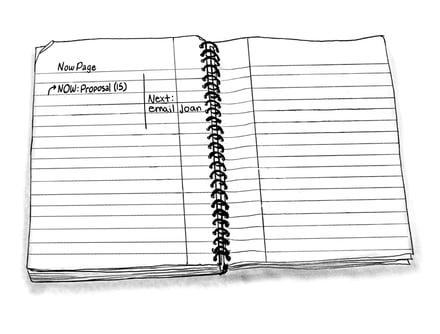 Fourth, PDM encourages you to notice distracting thoughts and emotions by using the THOUGHT and EMOTION tags to label, rank, and move beyond them. MRI scans show that labeling emotions engages the higher order parts of the brain associated with thinking and planning; this indicates an awareness with less reactiveness to the emotion (remember, mindfulness is being aware without reacting). According to Chade-Meng Tan, author of Search Inside Yourself, How to Master Your Mind, and Joy on Demand, holding on - whether by refusing to let something go or by refusing to let something come - is what Buddhist meditators identify as the main cause of human suffering. Instead of holding on, PDM encourages you to welcome and transcend your thoughts and emotions, and, consequently, experience moments of happiness that quickly add up.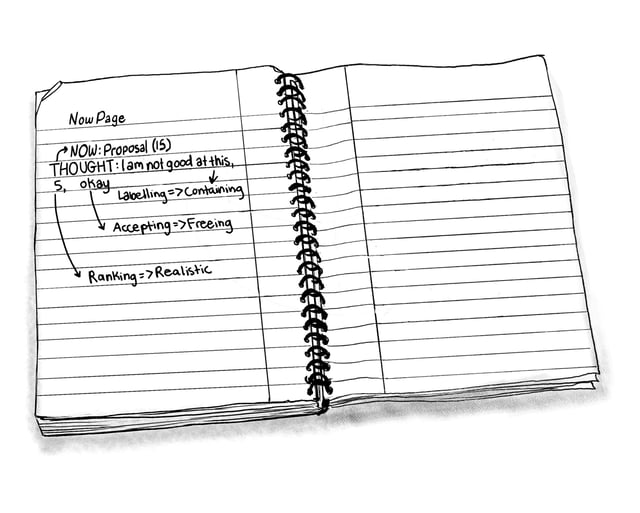 Enough said! Mindfulness at work is needed and is achievable. It is the path to happiness and accomplishments and the best response yet to our work overload. PDM and the teachings of mindfulness thought leaders like Jon Kabat-Zinn, Dan Harris, Chade-Meng Tan, and the research of Dr. Eric Dane, the University of Washington, and the other thousands of individuals and organizations who have undertaken this topic are all here to guide us in undertaking this essential journey to happiness and accomplishment at work.
Take your productivity to the next level
with The Perfect 15-Minute Day book, eBook, journal, or eCourse!
Article originally published on The Huffington Post.