by Melissa Sweat, Online Community Manager

I have a confession to make: I consider myself pretty darn productive and organized at work, but I have to admit that I do tend to let myself get distracted from time to time… Whether it's checking social media, my smartphone, or popping back into email. And I feel a bit guilty about it—that I'm not performing at my best.
But, even more than that, on those days when I succumb to the temptations of distraction, I find myself far more tired and stressed out at the end of the day.
Why?
One, because I likely haven't accomplished all the tasks I intended to by being distracted. And two, because our minds don't perform at their highest capacity when engaged in constant "multi-tasking," which is essentially "task-switching."
As People-OnTheGo Founder Pierre Khawand writes in The Perfect 15-Minute Day, "Multi-taking contributes to stress and overwork. Studies show that those who multi-task feel like time moves more quickly and that their workload is much heavier than those who focus on a single task."
So, how can we train our distracted brains to focus on a single task and not be tempted by all the various interruptions in the workplace of co-workers, technology, and even our own thoughts and emotions?
Sign up for our FREE webinar July 7, 2016, "The Perfect 15-Minute Day Method: From Scattered to Accomplished and Happy!"
(At the webinar, we'll also be having a special giveaway!)
Getting Focused Just 15-Minutes at a Time
A few months ago when I first experimented with the "The Perfect 15-Minute Day Method" (or PDM), I was amazed at the results I saw in my reducing my stress level and increasing my productivity in just a few days.
With only a journal, a timer, and the method, I was able to drastically reduce my distraction and get much more accomplished each day. The key, I realized, was how the method combined mindfulness at work with strategic time management.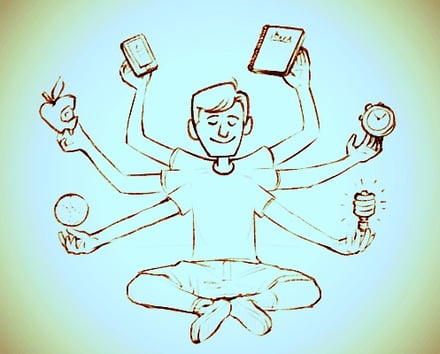 Here's a quick summary about how PDM works:
"PDM helps you a) be always aware of what you're working on and b) stay focused on the task at hand by working in highly productive bursts of short 15-minute increments. The method includes the use of tags to help you track your tasks, manage interruptions, manage thoughts and emotions along the way, and be able to reconcile and close the loops on unfinished items at the end of the day."
The most compelling aspects of the method for me were the use of tags to keep me aware of exactly what I was working on, combined with the use of the 15-minute timer. Setting the timer and focusing for just 15 minutes at a time made each "focused session" feel like a success! No longer was I tempted to turn to another distraction at work. I could successfully focus on the task at hand and get so much more done because that task had my full attention.
When I needed to keep working on a task, I would start another 15-minute increment and keep going. If I needed to attend a meeting or was starting to feel overwhelmed or stressed, I'd also mark that in my journal and could easily get back to what I was working on when I returned.
With The Perfect 15-Minute Day Method, I had a clear game plan that enabled me to navigate through all the potential interruptions at work and achieve a whole new level of "workplace Zen."
To learn more, check out The Perfect 15-Minute Day book or join us at the complimentary webinar on July 7!