---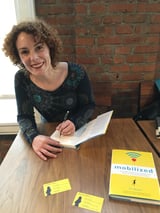 SC: What makes someone feel fulfilled at work in your view?
Pierre: There are many factors that make us fulfilled ranging from feeling recognized by our manager and our team, having work friends that we trust, being able to leverage our skills and experiences, feel that we are learning and developing, accomplish meaningful things, and more!
However, I would like to focus on one specific factor which is "accomplishing meaningful things." The challenge is that accomplishing something meaningful takes time, sometimes a long time, so what do we do in between? Another challenge is that when we accomplish something, most often we immediately and without even noticing what we accomplished, get into the next thing and start chasing the next accomplishment.
The idea behind the Perfect 15-Minute Day Method is to pause briefly every 15 minutes, and have the opportunity to reflect even for a moment and notice what we've accomplished. Even if it is a tiny step, this helps us experience a sense of fulfillment and satisfaction. As a result we are happy now and equipped with extra energy that can propel us forward towards the next 15 minutes. The result is accomplishment and happiness at work.
Need some inspiration? Check out SC's podcast for the full interview.
What makes you feel fulfilled at work? Your turn!