by Pierre Khawand, Founder and CEO
When you landed your current job, you were so excited to get started. You had so many plans, so many ideas, and so much passion. Eventually, that passion fades and not even your second cup of coffee can give you enough motivation to start the long-term project that you were so pumped about just a few months ago!
Adults with ADHD know their strengths. They are an asset to any team with their out-of-the-box thinking, ingenuity, and creativity. Their high energy is infectious and can carry big ideas to fruition and make impactful changes within a corporation.
But, as adults with ADHD also know, with the highs come the lows. While some days are focused and productive, other days are blanketed by brain fog, hopelessly distracted, forgetful and altogether disorganized.
When ADHD throws you lemons, you do what you can to stay focused at work and make the most you can out of it. Here are 5 tips to make work bearable and even fun and to keep you engaged and productive in the face of ADHD.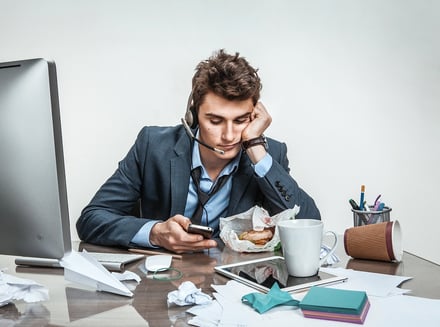 1. Make a Game Out of It

Games are inherently fun and engaging. Work isn't necessarily so. Stay on your toes by making work a game. First, break your project down into small, discrete tasks. Second, set a kitchen timer for 15 minutes--or your smartphone timer of course, and try to finish your task or a portion thereof before the time runs out. This adrenaline-pumping activity will keep the boredom at bay and help you finish your tasks for the day.
2. Keep a Record of Your Activity
When distraction strikes, keeping a record of your activity, and yes, even your distractions, can help you get back on track. I developed a tool to help me and my clients remain engaged whether the workday is long and repetitive, or hectic and variable. I call it "The Perfect 15-Minute Day Method" (PDM). PDM incorporates the 15-minute technique of tip #1 and a simple journal system of "tags" for recording current tasks and managing distractions. This encourages goal-setting and time mastery, both essential for motivating your work.
The PDM method of recording your activity helps you to better focus and regain focus after distractions or interruptions. For instance, when you begin to work on a task, note this down with a NOW tag followed by the name of your task, then set your timer for 15 minutes. Simply writing down what you want to work on helps quiet your mind to focus on the task; setting the timer solidifies your intention to work on that task. During the task, if you are interrupted or distracted, note this down as well with the applicable PDM tag. By becoming aware of your interruptions, external or internal, you can learn to better manage your focus.
Take your productivity to the next level
with The Perfect 15-Minute Day book, eBook, journal, or eCourse!
3. Clear Your Environment to Clear Your Mind
Having irrelevant materials in your workspace can subconsciously distract you from your current task. Metaphorically declutter your mind by clearing your desk and computer screen. Then, repopulate your environment with only the information that is relevant to the current task. Remind yourself of your current task by consulting your Activity Record (see tip #2). Pro Tip: keep all documents related to a certain project together in a paper or electronic folder, either in a file cabinet or on your computer desktop.
4. Take a Mindful Moment
Taking a 5-minute break before starting a new task can help decrease the impact of "attention residue" on your productivity. Attention residue occurs when thoughts of your previous task linger and divert vital attentional resources away from your current task. According to a recent study, 5-minutes of mindfulness (shifting your attention to your breath or the sensory input in your environment) can reset your brain and enhance concentration on the present task. On days when distractions and boredom are already eating away at your attention span, use this technique to take control of your attention and hit refresh.
5. Reconcile at the End of Each Day
If you make a to-do list every morning and are keeping a careful record of your daily activities (see tip #2), it should be easy to go through the list and determine which tasks are still incomplete and need to be reassigned to another day. On especially distracted days, there may be more items than usual requiring reassignment. Don't let this worry you. Variations in day-to-day performance are a normal part of being human. Forgive yourself for having an off-day and don't dwell on it. Instead, remind yourself about the things you enjoy about your work and the achievements you've made. Hopefully, your boredom subsides by tomorrow, but if it doesn't, use these tricks and tips to help you stay focused and stimulated.
To learn more,
check out The Perfect 15-Minute Day!
Article originally published on The Huffington Post.