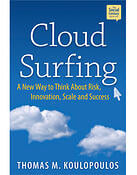 If you Google "cloud computing," you are likely to find more than 200,000,000 results. Yes, that is 200 million of them.
But you don't even need to Google it. Just look around your office, and you are likely to find many cloud services that are in place: from web content management, to e-commerce, sales and marketing, storage and backup, financial applications, web conferencing, and the list goes on.
On one side, there are some compelling benefits for cloud services, ranging from significant cost advantages, to easy access across the globe, and offloading the operational headaches of these systems to someone else.
But on the other side, there are risks relating to security, confidentiality, content ownership, stability of providers, among others.
Have you adopted cloud computing and to what extent? Share your experience with cloud computing in the following survey for a chance to win a copy of Cloud Surfing by Thomas Koulopoulos!
http://www.surveymonkey.com/s/cloud-services
Join us on Thursday, August 2nd for our Complimentary Lunch & Learn Webinar, "Living in the Cloud" to hear Thomas Koulopoulos, author of Cloud Surfing, A New Way to Think About Risk, Innovation, Scale and Success, provide valuable insights about this topic.