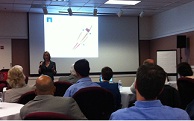 I mentioned to you a few weeks ago that I attended a presentation by Christine Heckart, CMO of NetApp, in which she shared some valuable insights, ranging from high level concepts to practical advice on how to lead, manage, and get results. I also talked about one of her insights which was "THINK BIG, start small, move fast!" I reflected on how THINK BIG applies to our daily productivity effort and provided related tips and techniques from our Accomplishing More With Less methodology. Now it is time to consider "start small."
start small
Here are some "start small" tips and techniques that will help you undertake significant projects and initiatives with ease and elegance:
40 minutes at a time: When people ask me, how long did it take to write your book? I use this opportunity to tell them "40 minutes" which takes them by surprise at first, until I add "at a time." The 40 minute chunks and working in bursts are powerful technique that can help us move mountains one bucket at a time and feel rewarded after every bucket.
Micro-Planning™: This is a journal technique that is simply but very powerful. It consists of breaking down the task that we are undertaking into small steps, and jotting these steps down. This is ideally done at the beginning of the 40 minute period, for the 40 minute period. We are talking "small!" But we are also talking "BIG" because this micro-plan helps us stay focused like never before, recover from unexpected interruptions like never before, and reach meaningful accomplishments like never before.
Immediate Priorities Matrix™: This consists of listing our immediate priorities in a matrix, and breaking them down into steps, including estimates of how long each step will take, and the related deadlines. The matrix turns ambiguity and stress into action. It helps dissolve the illusions and bottleneck and puts us on the road to implementation, one step at a time.
Stay tuned for the "move fast" tips and insights. For now, THINK BIG and start small and share your thoughts with us in the comments section below!
Additional Resources